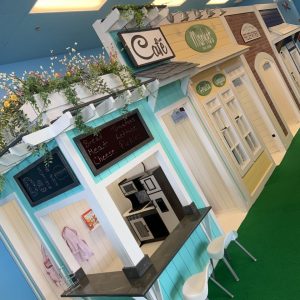 A Few Words About Our Playland
We offer a 2,000 square foot town filled with 8 different play houses filled with the highest-end toys on the market. All toys are curated to cater to children that are ready to play and learn at the same time. Come cook a meal at the café, fix a car at the service station, or be a firefighter and a teacher – all in a few hours! Each child will get to pick their "job sticker" on the way in, and that is just where the fun begins!
We are a SOCKS-ONLY facility!! Please remember to bring your own for the whole family. We do have some for sale in case they are forgotten. ($2 each plus tax)
BOOKING AND ADMISSION INFORMATION






Birthday Parties and Special Events
Light Snack and Beverage Bar
Comfortable and Safe Atmosphere
Special Activities Regularly
Planning your Visit?
Save time when you come in and sign up for an account and get your waiver signed for all children planning to arrive. This will make the check-in process quicker for you and get the kids playing faster!